Hi Girls!!
Sorry for only getting back to you now - we had a few hickups with our documentation. Nothing to serious thank goodness, but enough to stress us out a bit!!
The sonar was great again (as always). Sam's Birthmom is starting to get really big and uncomfortable now - shame, i feel so sorry for her. We have given her LOADS of gifts as we bought all her hospital 'gear', pj's, apron, slippers, towels, toiletries etc. etc. for the birth of baba. She was very thankful and excited and it's always such a joy to give that we really enjoyed her reaction.
We saw our son on the sonar again - ag, he's so beautiful!! I touched him and spoke to him through C's bump and it was wonderful. Doctor is a bit worried about C's blood presure and swelling, so he's keeping a close watch on her. She was also diagnosed with an infection, so hopefully the meds we got her will clear everything up nicely
I can't believe that our baby boy will be here in less than 3 weeks - it all feels very unreal. We are excited beyond words and so thankful for yet ANOTHER babyshower that was held for us on Saturday. We are truly blessed.
Will keep you posted as soon as something happens, I promise!!
Here's a peek or two at our lovely baby boy: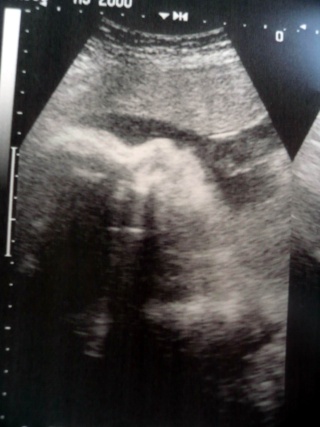 Will report back again next week (that's if baba doesn't decide to jump out earlier!!)
Warm regards,
Last edited by Hannah's Hope on Thu 24 Jun 2010 - 14:10; edited 1 time in total
Oh Hannah, 3 weeks! It is amazing! I am so excited for you!
The BM sounds like an amazing woman, but not as amazing as you and dh!
Will be thinking about you!

Bel

V.I.P. Member





Number of posts

: 3464


Age

: 42


Location

: Johannesburg


Mood

:


Registration date :

2009-01-24



I am so excited for you , cant wait to meet the little guy

all the best H

Tmom

V.I.P. Member





Number of posts

: 1891


Age

: 37


Mood

:


Registration date :

2009-04-24



I cant wait to meet your LB ...
Such exciting news Hannah!
_________________
9x DIUI
3x Laparoscopies
1x Hysteroscopy
AMH: 0.6
1x IVF (Sept 09)
1st Beta 20/09/09: 208
2nd Beta 21/09/09:290
3rd Beta 25/09/09: 1985
4th Beta 29/09/09: 10318
TWINS!
OOOOOOOOOOOOOOOOOOOOOOOOOOOOOOOOOO this is getting so exciting. I can't wait to see him!

Sheena

V.I.P. Member





Number of posts

: 8733


Age

: 39


Registration date :

2008-10-17




---
Permissions in this forum:
You
cannot
reply to topics in this forum